During intense rain, water can be directed from the drainage system and up through the drain. This water can then enter through the basement door, causing significant damage. To prevent damage to the property, basement, furniture, and electronic equipment, an effective solution is required. That is why the WaStop Floor drain is integrated with the WaStop Inline check valve.
When back pressure occurs from the drainage system and water flows back towards the floor drain, the WaStop Inline check valve prevents water from rising out of the well and further into the property through the door. This ensures that the property remains dry and protected from flooding.
The WaStop Floor drain is an innovative climate-proofing solution to prevent flooding.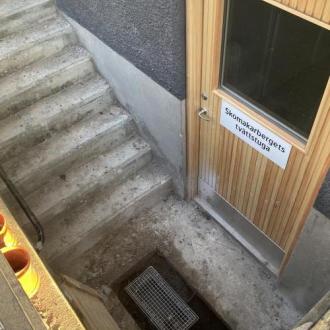 HOW AND WHERE CAN THE WASTOP FLOOR DRAIN BE INSTALLED:
It can be placed or mounted at the bottom of the basement stairs or at the bottom of the garage driveway
At the lowest point outside the basement door or garage door
Integrated into the concrete structure of basement stairs or basement entrances
In other locations where there is a risk of water or sewage leakage from external sources
THE BENEFITS OF WASTOP® FLOOR DRAIN:
Reliable and efficient solution for rain- and snowmelt and also flood prevention
Integrated WaStop Inline check valve prevents water intrusion into the property
Easy installation and maintenance
Sustainable and robust construction ensuring a long lifespan
Designed for installation in concrete floors, and installation is facilitated with the help of adjustable legs
Load class L15: Suitable for areas with light vehicle traffic, excluding truck traffic. Tested according to SS-EN 1253-1 with a load of 10 kN. Maximum point load is one-third of the maximum load weight
Downloads
We at Wapro believe in opportunities. By being an open organization, we can learn from our customers and share our experiences. Below you will find all the information about our products and also other useful and interesting information. Contact us if you are missing something.
Documents
Models
WaStop® Floor drain
Here you can find specific models, read more about the models and download technical information and drawings in different formats. Click on the padlock, download and you get everything you need in one package.

WaStop® Floor drain
WS110-FD1